Stonehenge's Missing Piece Returned From Florida After Removal 60 Years ago.
Workers raising three pieces of a standing stone in 1958 after it had fallen to the ground at Stonehenge.
A vanished Stonehenge piece has been returned to The UK after 60 years.
The missing stone — roughly the size and shape of a broomstick — was removed and taken by a Robert Phillips Briton, at the time working for a diamond-cutting business and relocated to the United States about thirty years ago.
Mr. Phillips took part in repair works at Stonehenge in 1958 to raise one of the trilithons, the iconic three-piece standing stones, that had fallen to the ground. The work included drilling ring-shaped holes into the stone, and it produced three-foot cylinders.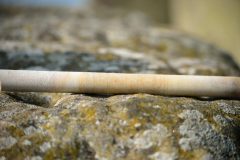 He retired to Aventura, Fla., north of Miami and kept the polished-looking stone in his office for decades. But on the eve of his 90th birthday last year, he decided to return the piece to England.
Heather Sebire, a curator with English Heritage, said "We are very grateful to the Phillips family for bringing this intriguing piece of Stonehenge back home."
The piece is expected to provide clues to a team of researchers that had been looking into
the origin of the giant stones
, which stand in Southern England at about 13 feet high and 7 feet wide.
When the researchers analysed the DNA of early British farmers, they found they most closely resembled Neolithic people from Iberia (modern Spain and Portugal). These Iberian farmers were descended from people who had journeyed across the Mediterranean.
In addition to farming, the Neolithic migrants to Britain appear to have introduced the tradition of building monuments using large stones known as megaliths. Stonehenge in Wiltshire was part of this tradition.