On Sunday, the 5th of July 1970 at the Miami Jai Alai Fronton I had the honor and privilege to work on the Jimi Hendrix concert sound crew. From the beginning to the end of the concert I stool about 10-feet from Hendrix watching his every move. I was seventeen years old and will never forget that magical evening.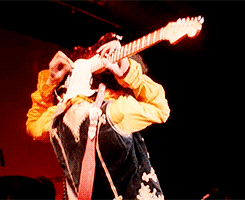 James Marshall "Jimi" Hendrix (born Johnny Allen Hendrix; November 27, 1942 – September 18, 1970) was an American rock guitarist, singer, and songwriter. Although his mainstream career spanned only four years, he is widely regarded as one of the most influential electric guitarists in the history of popular music, and one of the most celebrated musicians of the 20th century. The Rock and Roll Hall of Fame describes him as "arguably the greatest instrumentalist in the history of rock music".
Born in Seattle, Washington, Hendrix began playing guitar at the age of 15. In 1961. Young Jimmy (as he was referred to at the time) took an interest in music, drawing influence from virtually every major artist at the time, including B.B. King, Muddy Waters, Howlin' Wolf, Buddy Holly, and Robert Johnson. Entirely self-taught, Jimmy's inability to read music made him concentrate even harder on the music he heard.
On September 21, 1969 at the Jai-Alai Fronton, in Miami, FL I had the rare opportunity to work for Hendrix sound reinforcement company. The entire evening I stood less than 20-feet away from him. Riveted to watching him play every note.
Florida Concerts:
– September 21, 1969: at the Jai-Alai Fronton, in Miami, FL
– July 5, 1970: Jimi Hendrix at Jai-Alai Fronton, Miami, FL
– May 18, 1968: Miami Pop Festival: Jimi Hendrix – Foxy Lady https://youtu.be/_PVjcIO4MT4
– November 24, 1968: Sunday Miami Beach Convention Center, Miami, FL
Bassist Chas Chandler of the Animals in becoming his first manager. Within months, Hendrix had earned three UK top ten hits with the Jimi Hendrix Experience: "Hey Joe", "Purple Haze", and "The Wind Cries Mary". He achieved fame in the US after his performance at the Monterey Pop Festival in 1967, and in 1968 his third and final studio album, Electric Ladyland, reached number one in the US; it was Hendrix's most commercially successful release and his first and only number one album. The world's highest-paid performer, he headlined the Woodstock Festival in 1969 and the Isle of Wight Festival in 1970 before his accidental death from barbiturate-related asphyxia on September 18, 1970, at the age of 27
The 27 Club is in remembrance of popular musicians who died at the age of twenty-seven. The 'club' is generally taken to include Brian Jones, Jimi Hendrix, Janis Joplin, Jim Morrison, Kurt Cobain and Amy Winehouse.
Background information
Birth name
Johnny Allen Hendrix
Born
November 27, 1942
Seattle, Washington, U.S.
Died
September 18, 1970 (aged 27)
Kensington, London, England, UK
Genres
Occupation(s)

Guitarist
singer
songwriter
producer

Instruments
Years active
1963–1970
Labels
Associated acts
Website
www.jimihendrix.com