Drive High, get a DUI

With marijuana now legal, across California freeways the message is clear: "Drive High, Get A DUI." It's the CHP's latest campaign to also keep stoned as well as drunk drivers off the road.
DUI doesn't just apply to booze and comes just days before cannabis will be legal in California.
"If you smoke it, if you ingest it in the comfort of your own home, that's your own prerogative, but do not operate a motor vehicle," Acting CHP Commissioner Warren Stanley said.
]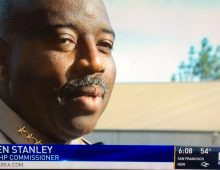 CHP Warning