Compact Disc Officially Turned 40 Years Old.
The CD-ROM has been part of your life. Your music, video games, favorite programs… when the USB didn't exist and internet downloads were impossible, the CD was the only beacon. Today he turns 40 years old.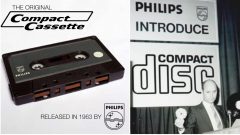 This October, the Compact Disc officially turned 40 years old. I was privileged to be part of the Compact Disc (CD) 💿 launch teams three times. 1.) As a key module/component to OEM to Apple Computers, Dell, Compac Computers, HP and more. 2.) Philips branded CD-Rom (internal/external) computer accessory (Fry's Electronics, Circuit City, CompUSA, BestBuy and more) 3.) CD player for consumer retail devices (Target, JC Penny's, Sears, Fry's Electronics, Circuit City, CompUSA, Radio Shack, Good Guys, Sharper Image, TigerDirect, K-Mart, Wal*Mart, Office Depot, OfficeMax, Staples, Costco, BestBuy and more).
PHILIPS Electronics, of the Netherlands, was the third largest electronics company with sales of U.S. $41 billion, 262,500 employees in more than 60 countries, 243 production sites in more than 25 countries. PHILPS sells and services those products in over 150 counties.
In 1963 PHILIPS had developed a tape, enclosed in plastic casing, that was "smaller than a pack of cigarettes." the first audio Compact Audio Cassette. Ultimately, more than 100 billion standard audio cassette tapes were sold.
PHILIPS holds 60,000 patents and design rights and almost 30,000 trademark registrations. PHILIPS was first at a lot of things: invented the audio cassette, the first LaserDisc and Compact Disc: (CD-Audio, CD-ROM, CD-R, CD-RW, DVD-Video, DVD-ROM), digital audio coding (MPEG-2 audio compression) and mobile telephony (GSM and CDMA), launched the first FlatTV and much more. Global leader in health technology solutions. 
By the way, the first two commercial CDs that went on sale were music records. Specifically, the album 52Nd Street by the American singer and songwriter, Billy Joel; and The Visitors from the Swedish group, Abba.
Apple released the Macintosh IIvx in 1992 with a CD-ROM drive.and video game manufacturers began using this technology to bring their products to market in 1992.
The Compact Disc is still the official format of music in physical format.
"Innovation has been in PHILIPS DNA since the introduced of their first light bulb more than hundred twenty-six years ago"
Failure is part of life.
If you don't fail, you don't learn.
If you don't learn, you'll never improve.
The only #tech investment #Microsoft ever made which returned a profit was in 1997 when Microsoft bought $150 million share of the financially troubled (at that time) Apple:
Top 4 Microsoft Acquisitions That Failed:
Nokia: Acquired: Apr 25, 2014; Price: $7.4 billion
Hotmail: $500 million acquisition in 1997. 
aQuantive: Acquired May 18, 2007 for $6.2 billion. 
Skype: May 2011, acquisition $8.5 billion. 
Nokia: $7.5 billion acquisition in 2014
PHILIPS owned companies included such notables as: Polygram Records (World's largest record label), Polygram Films, Magnavox, Marantz, Norelco shavers (largest shaver manufacturer in the world), Philips Lighting (world's largest lighting company), world's highest volume manufacturer of television CRT tubes, second largest manufacturer of Computer flatscreen displays, global leader in MRIs and other health technology solutions, audio Compact Audio Cassette more than 100 billion audio cassette tapes were sold.
I personality was part of the global launch of the world's first flatscreen televisions, highest manufacturing volume car radios (Germany), semiconductors and components, consumer products, professional products and systems areas including software and services. PHILIPS manufacturing was in 18 counties.
Involved in Philips Product Launches: Spearheaded global product launches involving Speech Recognition, Wi-Fi, GPS, CD-R/RW, DVD, Plasma TV, LCD Display, MP3, Digital Cameras, HDTV, LCD Projectors, PDA's (Velo & Nino), Cell Phone/pagers/Web screen phone, USB Peripherals, Video Web Camera, Speakers, Blank CD Media, Intelligent Remote Control – Pronto, Video Conferencing Systems, TiVo and WebTV.
PHILIPS Global Branding:
"Let's Make Things Better" was the new company theme worldwide. PHILIPS speaks with one voice and show one face to all target audiences across all product groups and regions.
Morgan Rees said, "It isn't about technology for the sake of technology. It's about using technology to make peoples lives better." One face, one consistent message and visual elements across all business units. Employees are brand ambassadors.
To do this the PHILIPS brand campaign ran globally on TV, print, online, Trade Shows, Sponsorships (NASCAR, Movie product placement, Golf tournaments, Motown Live) and aggressive Public Relations all carrying the brand's "Let's Make Things Better" messaging conveyed the company is committed to improving the quality of people's lives through meaningful innovations. The slogan, 'Let's make things better', aimed at giving the company a global single-brand image. It is said the company's biggest ever campaign featured over 100 global ads. It was down to all Divisions use the same corporate advertising and presentation template. 
Morgan Rees said, "It isn't about technology for the sake of technology. It's about using technology to make peoples lives better."
As PHILIPS VP of Global Brand Management here is a small sampling of our many global TV commercials we produced.
Philips Brand Commericals:
Better – PHILIPS Corporate Global Branding
https://youtu.be/YJYMMlhzkrI
Best Place (Flat TV Ceiling)
https://youtu.be/H4tNq801yvs
Everything Fits (Flat TV) 720×480
https://youtu.be/w3MoemyWX6U
Party Animal (CD-R)
https://youtu.be/YyVDu1B81E8
Leon's Party Mix (CD-R)
https://youtu.be/Ig4Dx53a2YE
Neighbors (Boombox)
https://youtu.be/v0_gzqoSFvk
Crying (TV)
https://youtu.be/KIjW5_y99Hg
Idiot – (Cell Phones)
https://youtu.be/LocoznFxZ9c
Baseball Wiseman (CD-R)
https://youtu.be/q4gxAYKlypo