PHILIPS Global Branding Overview – Morgan Rees
The PHILIPS brand campaign ran globally on TV, print, online, Trade Shows, Sponsorships (NASCAR, Movie product placement, Golf tournaments, Motown Live) and aggressive Public Relations all carrying the brand's "Let's Make Things Better" messaging conveyed the company is committed to improving the quality of people's lives through meaningful innovations. The slogan, 'Let's make things better', aimed at giving the company a global single-brand image. It is said the company's biggest ever campaign featured over 100 global ads. It was down to all Divisions use the same corporate advertising and presentation template.
Morgan Rees said, "It isn't about technology for the sake of technology. It's about using technology to make people's lives better." One face, one consistent message and visual elements across all business units. Employees are brand ambassadors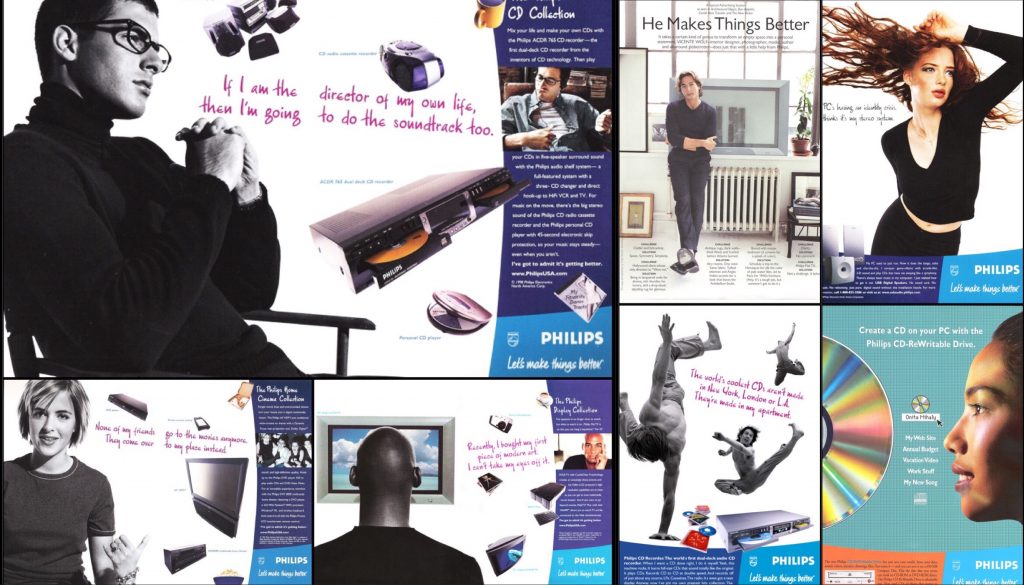 About PHILIPS:
PHILIPS Electronics, of the Netherlands, was the third largest electronics company with sales of U.S. $41 billion, 262,500 employees in more than 60 nations, builds and supports a vast range of products created at 243 production sites in more than 25 countries. PHILIPS sells and services those products in over 150 countries.
PHILIPS holds 60,000 patents and design rights and almost 30,000 trademark registrations. Key patents are in such fields as optical recording (CD-Audio, CD-ROM, CD-R, CD-RW, DVD-Video, DVD-ROM), digital audio coding (MPEG-2 audio compression) and mobile telephony (GSM and CDMA).
Up The Ranks:
While working up the ranks was involved in Philips product launches: Spearheaded global product launches involving Speech Recognition, Wi-Fi, GPS, CD-R/RW, DVD, Plasma TV, LCD Display, MP3, Digital Cameras, HDTV, LCD Projectors, PDA's (Velo & Nino), Cell Phone/pagers/Web screen phone, USB Peripherals, Video Web Camera, Speakers, Blank CD Media, Intelligent Remote Control – Pronto, Video Conferencing Systems, TiVo and WebTV. Penetrated major retailers including Best Buy, Circuit City, Magnolia, Radio Shack, Sharper Image, Good Guys, Sears, K-Mart, Wal*Mart, Office Depot, OfficeMax, Staples, Costco and Target.
As PHILIPS VP of Global Brand Management here are examples of our many global TV commercials.
Philips Branding Commercials
Better – PHILIPS Corporate Global Branding
https://youtu.be/YJYMMlhzkrI
Best Place (Flat TV Ceiling)
https://youtu.be/H4tNq801yvs
Everything Fits (Flat TV) 720×480
https://youtu.be/w3MoemyWX6U
Party Animal (CD-R)
https://youtu.be/YyVDu1B81E8
Leon's Party Mix (CD-R)
https://youtu.be/Ig4Dx53a2YE
Neighbors (Boombox)
https://youtu.be/v0_gzqoSFvk
Crying (TV)
https://youtu.be/KIjW5_y99Hg
Idiot – (Cell Phones)
https://youtu.be/LocoznFxZ9c
Baseball Wiseman (CD-R)
https://youtu.be/q4gxAYKlypo