Unclogging a Blocked Toilet Trap Without a Plunger

If you find yourself in a predicament to have a blocked toilet and no plunger nearby here's what you need to know. Try this simple solution to unclog your toilet with dish soap, a container of hot water, a little patience and that's it.
Stage one: Pour dishwashing soap into the toilet. Since the dish soap density (– 1.06) is great than water it will sink to the bottom of the toilet bowl.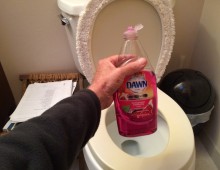 Stage 2: Allow 15+ minutes for the soap to be absorbed into the blockage acting as a pipe lubricant.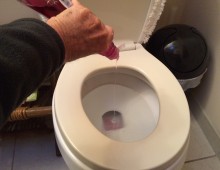 Stage 3: Pour a container of really hot water into the toilet bowl making its way through the trap pushing the blockage out.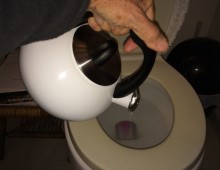 Stage 4: Flush the toilet and watch as the obstruction vanishes!
If you liked this article please forward to a friend via email (blue cross) or post on Facebook or Twitter