This week marks the 52nd anniversary of Star Trek. And to celebrate the occasion of the franchise.
Join us in wishing a Happy Anniversary to the first StarTrek crew who encouraged and inspired us to boldly go where no one has gone before.
Star Trek is an American space opera media franchise based on the science fiction television series created by Gene Roddenberry. The first television series, simply called Star Trek and now referred to as "The Original Series", debuted in 1966 and aired for three seasons on the television network NBC.
NBC canceled the show after three seasons; the last original episode aired on June 3, 1969.
Don't forget to join in the celebration! As part of the global celebration, honor 52 years of Star Trek the most logical way — with a "Live Long and Prosper" salute.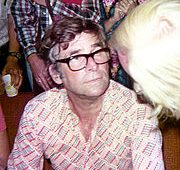 Gene Roddenberry, Star Trek Creator, Producer and Writer.