The Woodstock Music & Art Fair—informally, the Woodstock Festival or simply Woodstock—was a music festival in the United States in 1969 which attracted an audience of more than 400,000. Scheduled for August 15–17, it ran over to Monday, August 18. During the sometimes rainy weekend, 32 acts performed outdoors.
Genre
Rock and folk, including blues rock, folk rock, jazz fusion, hard rock, latin rock and psychedelic rock
Dates
August 15–17, 1969 ran over to August 18
Location(s)
Bethel, White Lake, New York, U.S. (original)
Years active
1969 (original). 53 years ago
Founded by
Michael Lang, John P. Roberts, Joel Rosenman and Artie Kornfeld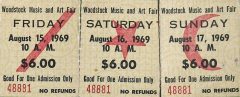 The historic Woodstock Music & Arts Festival began on this date in 1969. Held on August 15 – 17, 1969, the landmark event for the era's counterculture drew hundreds of thousands of people to Max Yasgur's farm in Bethel, New York for a rain-drenched, muddy, three days of peace, love and most of all, music.
As we mark Woodstock's 53rd birthday, we celebrate not only our history, but look squarely at our present and the better future we all aspire to create.
Richie Havens' festival-opening performance. Havens took the stage first because Sweetwater, the intended openers, were stuck in traffic and ended up needing a police escort to get on site. The rest of the playlist follows chronologically through the weekend, ending with Jimi Hendrix's legendary sunrise performance the morning of Monday, August 18, 1969.
Included are partial or complete sets performed by Tim Hardin, Melanie, Joan Baez, Santana, Mountain, Creedence Clearwater Revival, Janis Joplin, Sly & The Family Stone, The Who, Jefferson Airplane (with Nicky Hopkins), Joe Cocker, Country Joe & The Fish, Ten Years After, The Band, Johnny Winter, Blood, Sweat & Tears, Crosby, Stills, Nash & Young and Sha Na Na.
The Festival, was billed as "An Aquarian Exposition: Three Days of Peace & Music". It was held, as you probably know, at Max Yasgur's 600-acre dairy farm in the Catskills near the hamlet of White Lake in the town of Bethel, New York, 43 miles southwest of the town of Woodstock.
During the sometimes rainy weekend, thirty-two acts performed outdoors in front of Four to Five HUNDRED THOUSAND concert-going hippies and young people from all across America! It is widely regarded as a pivotal moment in popular music and the rock movement. Rolling Stone listed it as one of the 50 Moments That Changed the History of Rock and Roll.
The Woodstock Festival was a three-day concert (which rolled into a fourth day) that involved lots of sex, drugs, and rock 'n roll – plus a lot of MUD. Woodstock united us in a message of peace, openness and cultural expression – and demonstrated how a generation could be heard. This monumental music festival changed our world.
The original Woodstock poster is undeniably one of the most famous pieces of music art around. The legendary image of the dove perched on the neck the guitar neck has become one of the works of art that defined the entire Woodstock Nation. Although there were a few different posters done for this event this Classic poster is the most enduring. It was created by artist, Arnold Skolnick.
Here's the line-up of the legendary music that was performed over those four days:
Day 1: Friday, August 15
Richie Havens, Sweetwater, Bert Sommer,Tim Hardin, Ravi shankar, Melanie, Arlo Guthrie and Joan Baez
Day 2: Saturday, August 16
Quill, Country Joe McDonald, John B. Sebastian, Keef Hartley Band, Santana, Incredible String Band, Canned Heat, Grateful Dead,
Leslie West & Mountain, Creedence Clearwater Revival, Janis Joplin, Sly & The Family Stone, The Who, Jefferson Airplane
Day 3: Sunday, August 17
Joe Cocker, Country Joe & The Fish, Ten Years After, Johnny Winter, Blood Sweat and Tears, Crosby, Stills, Nash & Young
Day 4: Monday, August 18
Paul Butterfield Blues Band, Sha Na Na, & Jimi Hendrix